About SCARS
The South Canadian Amateur Radio Society is an American Radio Relay League (ARRL) Special Services Club in the Cleveland County, Oklahoma area. We help develop the amateur radio community in the region, state, and beyond with our Facebook presence and weekly newsletter.
We are a group of people who are interested in communicating without accessing public infrastructure. SCARS members are interested in talking to our friends or family during severe weather conditions or when power or communications systems are down. Hams are typical 'makers' and are interested in building our radio communications equipment. Amateur radio provides many different project opportunities to design, create, and use our gear. We live at the intersection of computers, the Internet, and radio. New, inexpensive devices allow us to communicate with neighbors using low power VHF or UHF systems. We can talk around the globe using the linked Digital Mobile Radio (DMR), or D-STAR technologies, or through space, with satellite links in a matter of minutes.
If you want to get licensed, visit our "Be a Ham" web page, join our Facebook page, or visit with us on our online Tuesday Elmer Nights.
---
Elmer Nights
Each Tuesday evening from 6:30 pm to 9:00 pm, about 25 hams and potential hams meet on the SCARS Zoom channel. All are welcome, license, or membership is not required. The connection information is on the SCARS Elmer Nights page. See you Tuesday!
---
February 13: SCARS Online Meeting – DC Power Systems
Many thanks to Mark Siegesmund W9WMR, the President of West Mountain Radio for his excellent presentation on DC power systems for amateur radio. For those of us that run battery power at home, or dual battery systems in our mobiles, DC power devices really save the day. And you can integrate solar power charging as well. A video of the presentation is available here:
---
NWS Spotter Training Scheduled
Each year the National Weather Service (NWS) offers storm spotter training for our area. This year all of the presentations will be via online webinars. The schedule is available on the spotter talk web page. Each event will be tailored to the counties listed, but anyone is allowed to attend.
The 2020 training events are archived on the SCARS ARES page and can be viewed at your convenience.
---
SCARS Dues are Due
As a reminder, SCARS membership dues start each January 1st. Join/renew today online, or through the mail, at https://w5nor.org/membership/
---
April 1: License Testing
SCARS offers amateur radio license test sessions on the first Thursday of the month at 6:30 pm at the Norman Firehouse #7, 2207 Goddard Ave. Firehouse #7 is just west of W. Rock Creek Rd. and N. Flood Ave. All of the locations, COVID-19 information, and time details are available on this website's license page. Sign up here today, and you will be ready for the test.
---
March 13: SCARS Online Meeting – NWS Rick Smith KI5GT
Our guest presenter for March will be Rick Smith KI5GT. Rick is the Warning Coordination Meteorologist for the National Weather Service in the Norman Forecast Office. Rick has been involved in severe weather and emergency management for many years. It will be great to have him kick off our 'Severe Weather Season' with his presentation on March 13th at 9:30 am.
Load up the Zoom software client and then click on this link, https://w5nor.org/zoom/ Or, you can join using meeting number 893 9952 6291 password w5nor. Or, watch the fun through YouTube by clicking on this link, https://w5nor.org/stream/
You can also join by telephone by calling 346-248-7799. This is a TOLL call, long-distance charges to Houston will apply (unless your phone plan covers long-distance calls). Use meeting number 893 9952 6291#, press # for participant number, and password 806721#.
SCARS meetings happen on the second Saturday of the month at 9:30 am. This will be an online meeting and the connection information is listed above. The SCARS Executive Board monitors the COVID-19 situation each month and will adjust operations to match meeting best practices.
---
Online Technician Class
SCARS has an online technician class that you can watch on your schedule. Start your education today. Learn with us online.
---
April 10: SCARS Online Meeting – Tropospheric Ducting
Gordon West WB6NOA, host of the popular podcast Ham Nation will be talking with us about Tropospheric Ducting. This relatively unknown freak of nature is a great way to make your signals travel through a 'wormhole' to spots unknown. Learn what causes this condition, how you can predict it, how you can recognize it, how you can take advantage of it, and what frequencies are affected by it. Save up your propagation questions and join us on April 10th at 9:30 am at https://w5nor.org/zoom/
---
May 8: SCARS Online Meeting – Beginner DX Operations
Dx'ers Jeff Martin K5WE, Kim Elmore N5OP, and Bill Roberson N5AQ will help us get started making our first distant (DX) contact (QSO). We will get you from 1 country to 100+ WITHOUT an 80' tower and 1,500 watts of power. With solar-cycle 25 starting up, it is a great time to use your 100 watts and a wire to hone your skills and get in on the fun of working foreign countries. You'll learn about spotter networks, operating techniques, and the Oklahoma DX Association. Think up your best DX operation questions and join us on May 8th at 9:30 am at https://w5nor.org/zoom/
---
June 12: Field Day Skills
The Amateur Radio Field Day means many things to many people. It takes planning, equipment negotiations, power systems, equipment repair, creature comforts, setup, testing, food, license testing, fox hunts, more food, teardown, and cleanup. This happens to support 24 hours of operators operating three different radio systems, voice, morse code, and digital, to over 700 stations across the country. At the June meeting, we will talk about how to operate the radio during Field Day and other contest events.
---
October 2020: YL Batfish Crew
The USS Batfish is a Balao-class submarine named for the fish found off the coast of Peru. During WW2, the Batfish sunk three Japanese Navy submarines in a 76-hour timeframe, and now it is in the Muskogee War Memorial Park, at the Port of Muskogee, OK.
October 9th to the 11th, 2020, some of the YLs (Young Ladies) from Kansas, Texas, and Oklahoma were guests of the USS Batfish Radio Club. They operated a special event station from the facility. For more information, you can visit the newsletter article or take a look at the YL Batfish page.
SMD / SMT Learning Kits
During a recent SCARS Elmer Night, someone asked about using surface mount technology (SMT) and soldering surface mount devices (SMD). Needless to say, this resulting in many questions, concerns, complaints about these components being too small to see, and soldering techniques that were unfamiliar to most.
We found the kit shown here. On the left half of this image is the kit as it arrived today. The right half shows the other side of the board, and all of the components in place, powered up and operating. This little kit has a double-sided circuit board, is pre-tinned, and is ready to start assembly. If you get this properly assembled, applying 3 to 12 VDC will start the blinking lights.
Mark Kleine N5HZR bought a couple dozen of these and they are available for $2 each. Contact him for your own kit.
---
Tape Measure Antennas – VHF/UHF
Our first batch of 30 tape measure antennas sold out in minutes. Another batch is now available. These kits are only $10 and are available from Mark Kleine N5HZR. More information is available on the tape measure antenna page
---
VHF Audio is On-The-Web
Are you ever out of town and want to tap into the local net back home, but your 2-meter radio can't reach that far? You can now take advantage of technology and the World Wide Web by listening to the SCARS and OU 2 meter repeaters online. Do what? Yes! It's real, and it sounds great! Give it a try by clicking here, or on the play button below.
---
Homebrew – Pixie Radio Kits
The Pixie 1/2 watt 40 meter CW kits have arrived. "Get 'em while they're hot" for $10. To get started, take a look at the SCARS Pixie page for circuit descriptions and build instructions. Also, you can visit the refresher information on soldering, visit the SCARS soldering page.
---
National Weather Museum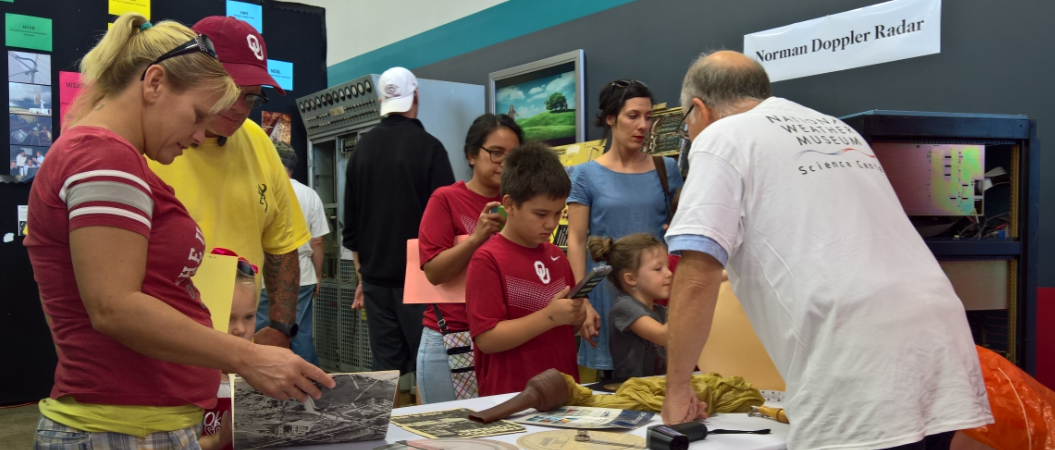 The National Weather Museum & Science Center is located at 1200B West Rock Creek Road, Norman, OK 73019. This facility houses the historical weather equipment that was either developed or used to promote weather management for the nation. Here you'll find the world's first Doppler radar console, a T-28 Trojan Weather Research airplane, a car that survived one of the Moore tornadoes, replicas of the largest hailstones, phased radar systems, and a whole lot more.
The museum is currently shut down due to COVID 19 concerns. More information is available at http://NationalWeatherMuseum.com. Make plans to come, and see you there!
---
Future Meeting Topics
We're still working out the 2021 presentation schedule. We'd love to have some more great topics, and hopefully, you can supply those ideas. Contact Wayne Dutton KK5IO, or post it on our Facebook group, if you have an idea for a future meeting.
---
Amazon Smile
Just because the holiday season is over doesn't mean your shopping comes to an end! You can still help SCARS raise money by shopping at Amazon. A percentage of the sales go directly to SCARS general funds to help operate great events such as Field Day and radio nets and keep the SCARS repeater equipment operational. Click here to help SCARS out.
---
Did You Miss a Meeting?
Our monthly meeting presentations are archived on the Internet. Visit our YouTube channel to see previous events.