Amateur Radio Cancellations
The current list of canceled amateur radio activities includes:
SCARS March meeting was canceled.
SCARS Technician / General class is canceled.
SCARS Elmer Night is canceled.
SCARS Monthly License Tests have been canceled.
Aeronautical club canceled their March meeting, and probably the April meeting.
The 4 States QRP group has canceled their Ozarkcon convention for April 3rd event.
DARA has canceled the Dayton Hamvention in Ohio for May 15th – 17th.
The Green Country Hamfest (NE Oklahoma) for April 10th – 11th has been canceled.
Our good friends at the ARRL even created a web page for people to list events that are canceled. All of the local leaders are watching the suggested guidelines and are acting appropriately. Make sure that you keep your head on a swivel and watch for the changes as they come flying at you.
However, if you are interested in getting your amateur radio license, you can start at home, with information from the SCARS class page. If you look at the class documents and then take the Online Practice sessions, you will be ready to pass a test when this all clears up.
About SCARS
The South Canadian Amateur Radio Society is an American Radio Relay League (ARRL) Special Services Club. We serve the amateur radio operators in the Cleveland County, Oklahoma area. The club has been operating since the fall of 1977 and works hard to grow and support the amateur radio operators in the local area. We also work to help develop the amateur radio community in the region, state and beyond with our Facebook presence and weekly newsletter. We have also documented the past by collecting, scanning, and displaying the 28 years of Central Oklahoma amateur radio newsletters in our CORA Collector and Emitter display gallery.
The amateur radio community is strong, and growing, both at the national level and here at SCARS. We are a group of people who are interested in communicating without accessing public infrastructure. SCARS members are interested in talking to our friends or family during severe weather conditions, or when power or communications systems are down. Hams are typical 'makers,' and are interested in building our radio communications equipment. Amateur radio provides many different project opportunities to design, create, and use our gear. Therefore, we live at the intersection of computers, the Internet, and radio. New, inexpensive devices allow us to communicate with neighbors using low power VHF or UHF systems. We can talk around the globe using the linked Digital Mobile Radio (DMR), or D-STAR technologies, or through space, with satellite links in a matter of minutes.
---
To Be Announced: License Testing
SCARS typically offers amateur radio license test sessions on the first Thursday of the month at 6:30 pm at the Norman Firehouse #7, 2207 Goddard Ave. Firehouse #7 is just west of the intersection of W. Rock Creek Rd. and N. Flood Ave. All of the location and time details are available on the license page of this website. Since we know that you have got plenty of time to study, we know that you'll be ready to test when the time comes. If you sign up here today, we'll let you know when the next testing sessions open up around the OKC metro area.
May 9th???: Meeting – Severe Weather Season
Moore Emergency Manager Gayland Kitch WX5MOR will present information about the severe weather season here in Oklahoma. This meeting may slide to May 9th if we're all still distancing.
SCARS meetings happen on the second Saturday of the month (third in June) at 9:00 am at the Norman Firehouse #7, 2207 Goddard Ave. Firehouse #7 is just west of the intersection of W. Rock Creek Rd. and N. Flood Ave. All of the location and time details are available on the Meetings/Nets page of this website.
Elmer Nights – Canceled for now
SCARS offers Elmer Nights at the Norman Fire Station #7 during the Technician / General class. We meet every Tuesday at 6:30 pm to talk about amateur radio and learn more about it. There's no agenda. Bring your problems, and your creative thinking, and we will help you solve your issues. Elmers, bring your skills and prepare to share them with the group.
Tape Measure Antennas – VHF/UHF
Our first batch of 30 tape measure antennas sold out in minutes. Another batch is now available. These kits are only $10 and are available from Mark Kleine N5HZR. More information is available on the tape measure antenna page.
Homebrew – Pixie Radio Kits
The Pixie 1/2 watt 40 meter CW kits have arrived. "Get 'em while they're hot" for $10. To get started, take a look at the SCARS Pixie page for circuit descriptions and build instructions. Also, you can visit the refresher information on soldering, visit the SCARS soldering page.
National Weather Museum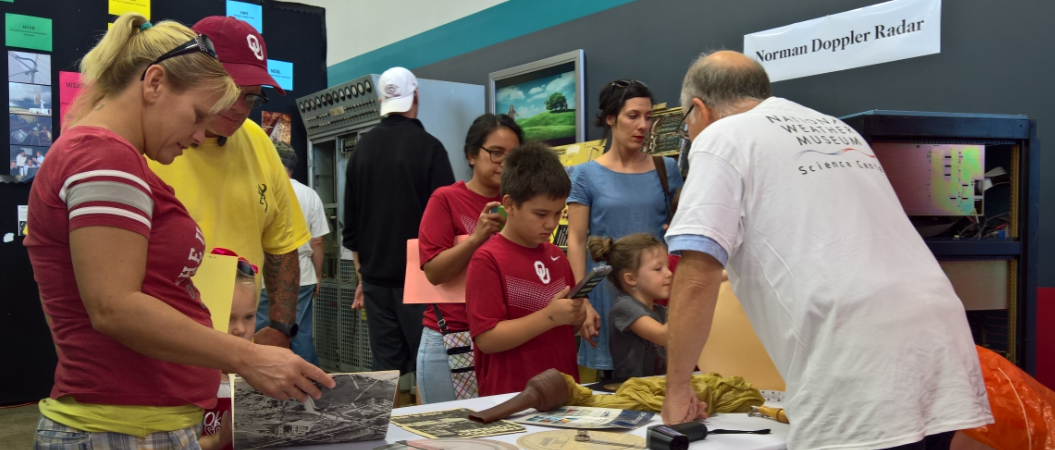 Our own Doug Forsyth WX5DF is managing the National Weather Museum & Science Center located at 1200B West Rock Creek Road, Norman, OK 73019. This facility houses the historical weather equipment that was either developed or used to promote the management of weather for the nation. Here you'll find the world's first Doppler radar console, a T-28 Trojan Weather Research airplane, a car that survived one of the Moore tornadoes, replicas of the largest hailstones, phased radar systems and a whole lot more.
The current hours are Thursday and Friday from 10 am to 4 pm, and Saturday from 10 am to 5 pm. More information is available at http://NationalWeatherMuseum.com. Make plans to come, and see you there!
Future Meeting Topics
We're still working out the 2020 presentation schedule. We'd love to have some more great topics, and hopefully, you can supply those ideas. Contact Gayland Kitch WX5MOR, or post it on our Facebook group, if you have an idea for a future meeting.
VHF Audio is On-The-Web
Are you ever out of town and want to tap into the local net back home but your 2-meter radio can't reach that far? You can now take advantage of technology and the World Wide Web by listening to the SCARS and OU 2 meter repeaters online. Do what? Yes! It's real, and it sounds great! Give it a try by clicking here.
Amazon Smile
Just because the holiday season is over doesn't mean your shopping comes to an end! You can still help SCARS raise money by shopping at Amazon. A percentage of the sales go directly to SCARS general funds to help operate great events such as Field Day, radio nets and keeps the SCARS repeater equipment operational. Click here to help SCARS out.
Did You Miss a Meeting?
Our monthly meeting presentations are archived on the Internet. Visit our YouTube channel to see previous events.