---
Elmer Nights
Each Tuesday evening from 6:30 pm to 9:00 pm, about 20 hams and potential hams meet on the SCARS Zoom channel. All are welcome, and the connection information is on the SCARS Elmer Nights page. Join us Tuesday!
SMD / SMT Learning Kits
During a recent SCARS Elmer Night, someone asked about using surface mount technology (SMT) and soldering surface mount devices (SMD). Needless to say, this resulting in many questions, concerns, complaints about these components being too small to see, and soldering techniques that were unfamiliar to most.
We found the kit shown here. On the left half of this image is the kit as it arrived today. The right half shows the other side of the board, and all of the components in place, powered up and operating. This little kit has a double-sided circuit board, is pre-tinned, and is ready to start assembly. If you get this properly assembled, applying 3 to 12 VDC will start the blinking lights.
Mark Kleine N5HZR bought a couple dozen of these and they are available for $2 each. Contact him for your own kit.
Tape Measure Antennas – VHF/UHF
Our first batch of 30 tape measure antennas sold out in minutes. Another batch is now available. These kits are only $10 and are available from Mark Kleine N5HZR. More information is available on the tape measure antenna page.
Homebrew – Pixie Radio Kits
The Pixie 1/2 watt 40 meter CW kits have arrived. "Get 'em while they're hot" for $10. To get started, take a look at the SCARS Pixie page for circuit descriptions and build instructions. Also, you can visit the refresher information on soldering, visit the SCARS soldering page.
National Weather Museum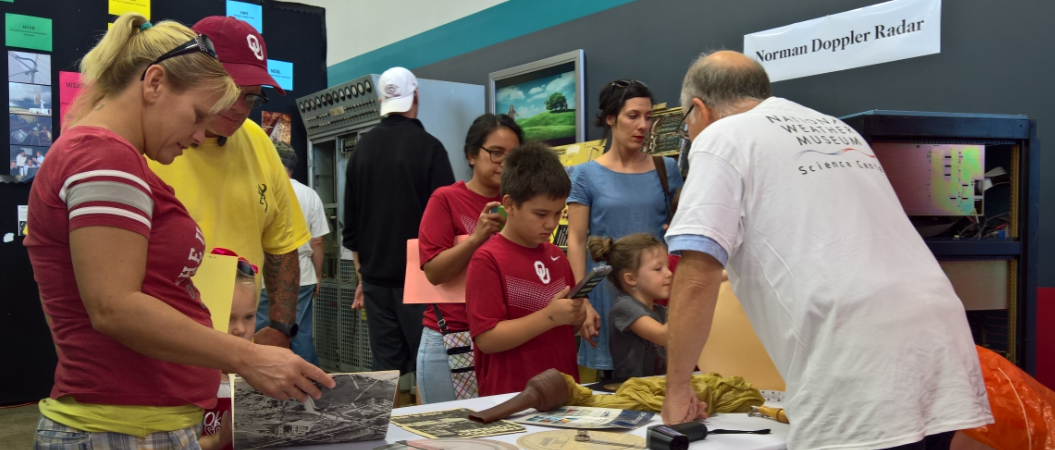 The National Weather Museum & Science Center is located at 1200B West Rock Creek Road, Norman, OK 73019. This facility houses the historical weather equipment that was either developed or used to promote weather management for the nation. Here you'll find the world's first Doppler radar console, a T-28 Trojan Weather Research airplane, a car that survived one of the Moore tornadoes, replicas of the largest hailstones, phased radar systems, and a whole lot more.
The museum is currently shut down due to COVID 19 concerns. More information is available at http://NationalWeatherMuseum.com. Make plans to come, and see you there!
Future Meeting Topics
We're still working out the 2021 presentation schedule. We'd love to have some more great topics, and hopefully, you can supply those ideas. Contact Gayland Kitch WX5MOR, or post it on our Facebook group, if you have an idea for a future meeting.
VHF Audio is On-The-Web
Are you ever out of town and want to tap into the local net back home, but your 2-meter radio can't reach that far? You can now take advantage of technology and the World Wide Web by listening to the SCARS and OU 2 meter repeaters online. Do what? Yes! It's real, and it sounds great! Give it a try by clicking here.
Amazon Smile
Just because the holiday season is over doesn't mean your shopping comes to an end! You can still help SCARS raise money by shopping at Amazon. A percentage of the sales go directly to SCARS general funds to help operate great events such as Field Day and radio nets and keep the SCARS repeater equipment operational. Click here to help SCARS out.
Did You Miss a Meeting?
Our monthly meeting presentations are archived on the Internet. Visit our YouTube channel to see previous events.