This page is written by a new SCARS member Scott Miller W5EDM, an almost brand-spanking new ham, as he talks about his successful contact with the International Space Station (ISS).
When Mark Kleine, N5HZR, asked me to write an article about contacting the ISS using amateur radio, I was initially a bit hesitant. I'm the last person that should be writing an article about how to contact a manned station in orbit, speeding along at a mind-boggling 17,000+ mph at an altitude of 254 miles. Let's not even consider the fact that I have only been licensed since September 7th of this year (Ed: this contact was made 45 days after passing his technician test). I am about as green and inexperienced as one can get. But, then I started thinking that maybe contacting the ISS only takes minimal equipment, very basic knowledge, and a healthy dose of good luck. I am very grateful that everything came into place and I was able to log this contact. When I receive my QSL card, it will be a prized possession for sure. But honestly, this is something that ANY Technician class operator can do.
I had first heard about Amateur Radio on the International Space Station, or ARISS while studying for my Technician exam. I have always had a high interest in everything space-related, especially manned spaceflight. So, the ARISS program was something that I immediately took note of. Looking back, the Challenger incident is what solidified my lifelong interest in spaceflight. I was 14 when the Challenger disaster occurred. It was "one of those moments" for me. I remember exactly where I was and what I was doing when I heard about the Challenger breaking apart in flight. The world stood still that day. Thankfully, moments like that are rare.
When I started to assemble my home station, I went in with the mindset that most beginning operators have; bang for the buck with ease of use and set up. Having been in CB radio, I knew that the antenna system was just as, if not more, important than the transceiver. I settled on a KB9VBR dual-band J-Pole, 2 10' chain link fence top rails for a mast, and a 3' tripod to hold everything vertical. I also used guy lines (just in case), a grounding rod, a lightning arrestor, and I was in business. The one thing that I didn't "skimp" on was coax. I did spend the extra money for solid core LMR-400 with Amphenol solder connectors. Coax loss at different frequencies was (and still is to some degree) somewhat foggy, but the charts and message boards indicated this coax was a solid choice.
As far as transceivers go, it wasn't long before I wanted something more substantial than my Yaesu FT-60r. I had used this handheld to listen to repeaters before getting my ticket. I still use it often when roaming around the house and during the ARES siren net on Saturdays with SCARS. But I could tell it wasn't going to work as a base. After much thought and research, I settled on a Yaesu FT-7900r which is simply a dual band mobile. So far, I am happy with this choice.
When programming my transceiver, I put most of the local repeaters in one memory bank and frequencies for Will Rogers World Airport in another bank. Just for fun, I programmed the ARISS downlink and uplink frequencies in the same bank with the repeaters. I knew about Doppler shift in sound waves and learned that it also affects radio waves much the same way. I didn't program any "shift" frequencies at the time. As it turns out, I really didn't need them. The downlink frequency for ARISS is the same worldwide, 145.80 MHz. The uplink frequency depends upon your location. Voice uplink for the Americas is 144.49 MHz. These frequencies program into your radio just like a local repeater, but as an "odd split". An odd split simply means that the transmit and receive frequencies do not follow the standard offset. This can be tricky to program, but your radio's manual, YouTube, and Tuesday evening Elmer nights at the Norman Red Cross are lifesavers! Another option is to obtain an inexpensive cable online that is specific to your transceiver and use CHIRP with your computer to program your radio. There are several good programs to do this, but I use CHIRP, so it is what I'm familiar with. It is good to know how to program your radio manually, but programming through your computer is much easier and saves a ton of time and frustration.
I was starting to think that maybe I had made a mistake in programming for the ISS. Several weeks had passed and I didn't hear anything on that frequency. I had all but given up until one evening I noticed a voice that I hadn't heard before. I got up to see what frequency it was, and it was the ISS. There are currently 3 amateur operators on board the station; Ricky Arnold, KE5DAU, Alexander Gerst, KF5ONO, and Serena Auñón-Chancellor, KG5TMT. It was simple to tell who it was since it was a female voice. I started getting excited about this whole station thing again. At the time, she was trying to contact a specific ground station, so I knew well enough not to interfere. I could hear them, so maybe they could hear me after all. I immediately went into planning mode.
The first problem I needed to solve was simply about timing. For several years, I have been receiving text messages on my phone from NASA about visual sightings of the station. The station is visible just after sunset or just before dawn during that short period of time when the earth's surface is dark, but the station itself is illuminated by the sun. To make these sightings even more infrequent, the station must be fairly close to your location during this time. Visually, the ISS appears as a bright dot of light streaking from horizon to horizon in a matter of only a few minutes. If you like, you can sign up for text or email alerts at https://spotthestation.nasa.gov. Now, as fun as seeing the station overhead is, I knew these infrequent alerts would not help for working the ISS. The station is relatively close several times a day, both day and night. I started looking for something more comprehensive and found many free apps for my phone to help increase my chances for contact. There are also recommendations on the ARISS website that are PC based. The app I chose is simply "ISS Detector". It's easy to set up and use, gives alerts before the ISS is close, and gives information concerning future passes for the next 10 days. There are several apps that will work, though. I use an Android phone, but I assume there would also be several choices for Apple also.
While planning this attempt, I started to wonder if my gear would be up to the task. I watched an online video about an operator making AMSAT contacts. My knowledge base of AMSAT is virtually nonexistent, so I'll save the embarrassment of trying to explain AMSAT in detail. On a very basic level, AMSAT is using orbiting satellites that are geared for amateur radio use to make contacts using various modes. That seems to be a safe enough explanation. Anyway, the operator in the video was using a battery powered transceiver, a very large and expensive looking handheld Yagi directional antenna, a headset… he pretty much had all the bells and whistles. He was working station after station, fairly impressive. After thinking about his gear, his antenna was about the only thing I thought I may need. I was concerned about my simple J-Pole sitting a meager 20' in the air. It does clear the neighborhood roof lines, but would a simple unidirectional antenna be enough? At this point, I wasn't entirely too confident.
I noticed from my app that the ISS had 2 close passes the morning of October 20th. Well, this could be promising. It was a Saturday so I would be home during the morning and the ISS was making educational radio contacts during this time. Hopefully, they would be inclined to make general ground contacts also. The first pass was around 8:15 a.m. I turned my radio to the memory channel with the ISS frequencies, opened the squelch, and listened. As they came into range, I could hear KG5TMT speaking with a school. I was both excited and disappointed at the same time. I could still hear the station, but attempting contact was a no go this time. So, I waited patiently until the next go around at 9:45 a.m. Same procedure: I turned to the ISS channel, opened the squelch, and listened. The voices slowly broke through the noise and finally, they were working general ground stations! I waited until they got a bit stronger and the previous operator had faded, then I jumped in. "November Alpha 1 Sierra Sierra this is Whisky 5 Echo Delta Mike" Absolutely nothing, let's try again. "November Alpha 1 Sierra Sierra this is Whisky 5 Echo Delta Mike". "Whisky 5 Echo Delta Mike this is November Alpha 1 Sierra Sierra, how are you doing this morning?" I froze solid. I literally almost couldn't talk, my little rig and my little antenna put my voice into the ISS… and they were talking back! We were able to talk for a brief 30 seconds or so. Even though I don't remember exactly what I said, I do know that I didn't make too much of an idiot out of myself (hopefully). I'm writing this the day after all this happened, and I still feel that numbing high you get when something amazing happens.
Sitting here writing and reflecting, what did I learn from all of this? I learned that preparation is very important, but luck and conditions can be almost as important. I also learned that basic equipment and a decently tuned antenna can do a lot more than you expect. Recently, I started making homebrew antennas and I had posted some questions on the SCARS Facebook page about where to locally obtain supplies. I received many helpful responses, as I have learned that hams are more than willing to help in most any way possible. They only ask that you do the same when your time comes to help. I have received invaluable help, advice, and encouragement from nearly every amateur radio operator that I have come across, whether in person or on the air. Local hams like Peter Laws N5UWY, Gordon Hudson AD5GG, Don Byrer N0DLB, and Mark Kleine N5HZR both through Facebook and Elmer nights, have suffered my many questions with solid advice. But, in this case, I think Peter has given the most relevant advice. Concerning the type of rod to use for a homebrew antenna, Peter said: "Just put metal in the air – someone will hear you." Well, Peter, they did!
The Antenna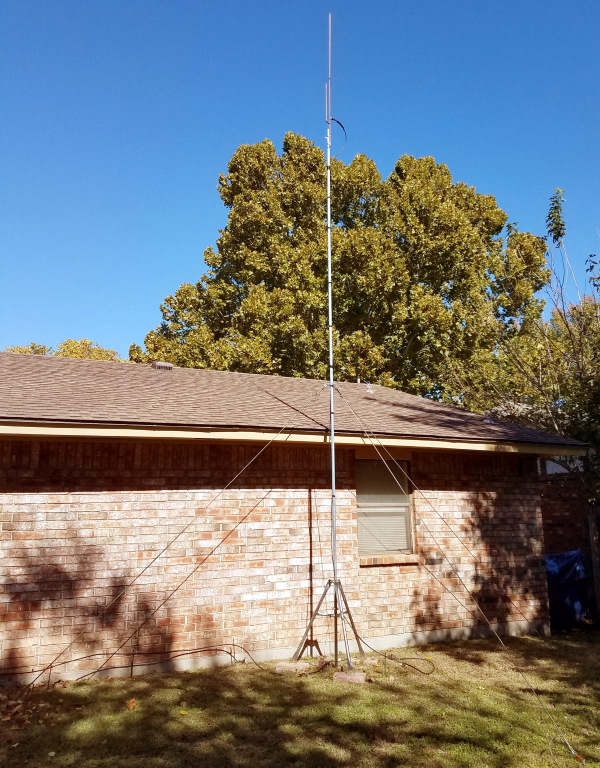 I live in a rental, so I didn't want to attach anything to the house antenna wise, so this is what I came up with.  A 3′ tripod with a 15# paver attached to each leg. Two 10′ fence top rails guyed just over halfway to help keep the sway down (and keep it away from the house). And, my J-Pole. I elevated the coax a bit to help with mowing and trimming (I'm lazy that way).
The "Shack"
My "shack" is a two cube bin. I mounted the faceplate to my Ft-7900r to the outside with the mic. The body of the radio is mounted under the cube top to keep it out of the way. And then there's the Ft-60r, Radioddity GD-77, Alinco power supply, MFJ antenna analyzer, Midland external speaker, and other odds and ends. The 70 cm ground plane antenna I built is on the PVC stand that I constructed also. I use the antenna for DMR at home and sometimes for Saturday siren nets. I live about 14 miles NW of the SCARS repeaters and can hit the 70 cm DMR repeater with the GD-77 with about an S4. The ground plane antenna gives me a solid S8 according to the Brandmeister website.
The QSL Card Arrived
73 de Scott Miller W5EDM.