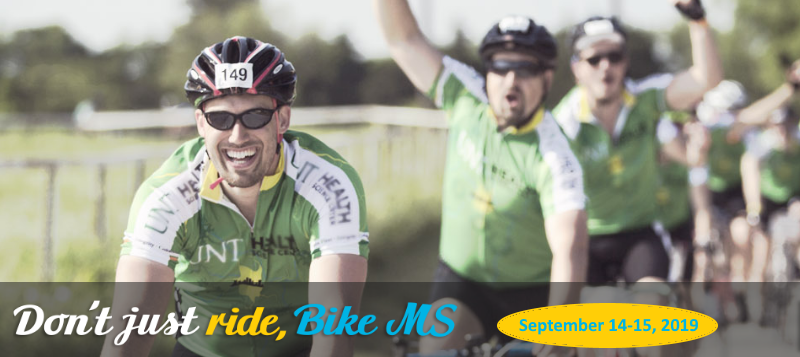 The South Canadian Amateur Radio Society (SCARS) and the Bartlesville Amateur Radio Club (BARC) will be managing the communications needs for the 2019 annual BikeMS bicycle event. This year the two-day fundraising cycling event will be held September 14 & 15, 2019. This ride takes riders on a journey from North Tulsa to Bartlesville, on Saturday, and then returns to North Tulsa on a slightly different route. This ride begins Saturday morning at the Oklahoma State University – Tulsa Campus, and after a 72-mile journey, arrives at Johnstone Park, in Bartlesville, for an overnight stay. On Day 2, the riders head back to the Oklahoma State University – Tulsa campus through a slightly different route. Participants will experience routes with fully-stocked rest stops every 10 to 12 miles, a great lunch stop each day and support provided by volunteer nurses, HAM radio operators, motorcycle directors, ride marshalls and law enforcement.
Get Involved
This year we have again been asked to provide radio operators for the following tasks. Each day, we need two tour vehicles and five support and gear (SAG) mobile operators. Optionally some stationary operators can be placed at some of the rest stops. If you'd like to help, please contact Mark at N5HZR@arrl.net. Previous experience is not needed, but if you can check into a net, and keep your cool in an active environment, you'll do just fine.
Tour Vehicles
There are two cars that will travel the course that contain the ride leadership team members and an amateur radio operator. Tour 1 usually runs ahead of the riders verifying the course signs, and making sure that the law enforcement and motorcycle riders are all in place. Tour 2 manages the activities in the back half of the ride.
Support And Gear (SAG) Vehicles
Typically there are 5 rented vans that will have a driver, and an amateur radio operator. The radio operator handles communication, navigation, and other activities that pop up throughout the day. SAG 1 usually stays behind the first 'major group' of riders. SAG 2 will ride behind the first 40% of the riders. SAG 3 will run about 75% of the way through the pack. SAG 4 is used as a 'floater', and will traverse the ride, providing assitance as special needs arise. SAG 5 always follows the last rider and sweeps the route by keeping that last rider always in sight. A dedicated sign pickup vehicle will follow SAG 5 and is dedicated to picking up all of the signs behind the last rider.
SAG 2 will serve as 'net control', since they will usually be in the middle of the pack.
Rest Stop Operators
If additional operators are available, they can work from the lunch location, or the rest stops along the way. Multiple operators will be allowed at each rest stop if you'd like to bring your own 'company'.
Communications Paths
Primary communications are yet to be determined. Communications on all paths will be through a directed net.
Schedule
Saturday: Typically our activities start with breakfast at OSU-Tulsa at 6:30 am. We'll connect the radios to the vehicles and start our trip to Bartlesville. We arrive there at about 3:30 pm and take part in a great hamburger/hotdog feast. Transportation back to ham vehicles will be provided by BikeMS, and will depend on where the hams live.
Sunday: We'll meet back in Bartlesville at 7:00 am for breakfast and get back in the cars for the return trip to Tulsa. This usually takes less time, so we should be back in town at 2:00 pm or so.
Camping is permitted in Johnstone Park overnight, so you're welcome to spend the night under the stars with the bikers!

Equipment Required
Our primary communications radios will be DMR and VHF analog mobile systems temporarily mounted in the Tour and SAG vehicles. Note that the vehicles used may have aluminum body panels, and the mag mounts may not be effective. SCARS has a number of suction cup mounted dual band antennas that can be used for this effort. Duct tape will be available at the starting location to assist in setting up the radios. Rest Stop locations will be required to bring their own radios, and power systems.
Saturday Route
Saturday's route will be about 71.7 miles in length and is detailed at this link.
Sunday Route
Sunday's route will be 56.4 miles long and is detailed at this link.