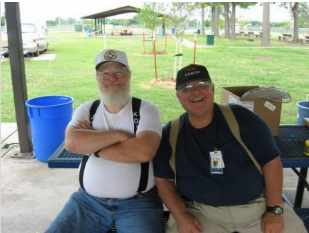 Becoming a member of the South Canadian Amateur Radio Society (SCARS) is fast and painless. SCARS members work directly with the local leadership in Cleveland County during times of emergency. We work closely with the Office of Emergency Management for Norman, Moore, and Newcastle. We also work with the National Weather Service Forecast Office in Norman. Not only during times of emergency but also during public campaigns.
Become a Member
There are about 185 amateurs and other related members of SCARS. Our interests cover a wide range of Amateur Radio activities. This variety is one of the things that makes our hobby/service so much fun. Someone in the club will be able to help you to answer any questions you might have. Our members are active in analog and digital voice, CW, digital data, computers, antennas, homebrewing, DX'ing, or just local communications.
If you are new to amateur radio, you may be hesitant to get on the radio and talk. Our patient elmers can get you up-to-speed in any segment of amateur radio. SCARS has a great group of people to help you get your feet wet. We will get you on the airwaves. Feel free to visit the meetings page for more information on club meetings and radio nets that the club supports. Visit the events page to see what special events are in the works. The club's Facebook page is a great place to connect with members virtually.
Membership Forms
SCARS membership forms are available here. You can fill one out and mail it in.
Pay Membership Online
An easy way to join or renew your membership online is to use our PayPal payment system. Select your membership type, either a single or a family. Our bylaws allow us to prorate the membership fees starting in July. The prorated amounts will keep you current until the end of the following year! We will use your PayPal contact information for your SCARS membership. If you would like to change any of that information, send it via mail, or email to [email protected].
Renewals can select one of the two annual memberships, for $25 or $26, from the drop-down membership type below.
Pay Membership via US Mail
You can mail your membership form and dues at to the following address:
SCARS
PO Box 720993
Norman, OK 73070-4769

We collect annual membership fees each year on January 1st.
Membership Roster
The 2021 SCARS membership roster is produced as an Excel document and is available here, and as an Adobe PDF document and is available here. The username for this download is the word "member," without quotes. SCARS members can receive the password from an officer or send an email to [email protected].
If you see any changes that need to be made to the membership list, please send an email to [email protected].
Public Safety Identification Card
Active amateur radio license holders can obtain an identification card from the State of Oklahoma Department of Public Safety. Please follow the directions on the form, which you can access here.
Amateur Radio License Plates
In addition to the state identification, you can also get a special "Amateur Radio" license plate from the state of Oklahoma. Click here for a copy of the form, which includes instructions on how to turn it in.
Emergency Communications
If you are interested in emergency communications, please complete the ARES form available here and return the completed form to a SCARS officer.